DFS is an abbreviation for "daily fantasy sports" and sites that offer DFS have daily tournaments or head-to-head games with the chance to win a pretty penny (or lots of pretty pennies actually).  I'm sure you've seen the commercials for the two leaders of the industry, FanDuel and DraftKings.  I signed up for FanDuel years ago when it first became a thing, but I didn't have much success as it was a different kind of monster to tackle than the season long leagues I was accustomed to.  And it was not until recently that I tried my hand at it again, as I got into it in the second half of this past NFL season.  After doing some research reading various literature about DFS, I've gone on to win a NHL freeroll on DraftKings, beating out a few thousand other people to win tickets to the NHL All-Star Weekend, and I have come close to a couple of big scores where I would've gotten 1st or 2nd in large tournaments.  In those tournaments, I was choosing between two players to fill one position, but the ones I chose ended up doing nothing and the ones I did not choose did really well and would have won me a lot of money.  DRAT!
Last night on a site called FantasyAces, which is definitely not as big as FanDuel or DraftKings but is still one of the top 5 sites in the industry, I constructed a lineup that did very well and I had the top or second best score in each game I entered (see below).  So the point of me sharing this is not to brag, but to explain what DFS is all about and introduce it to those who are unfamiliar, and to show that winning at DFS is very much possible.  I would highly recommend playing DFS for fantasy gamers out there, as it is a lot of fun (especially when you win!).
But let's take a look at Friday's diamond action now.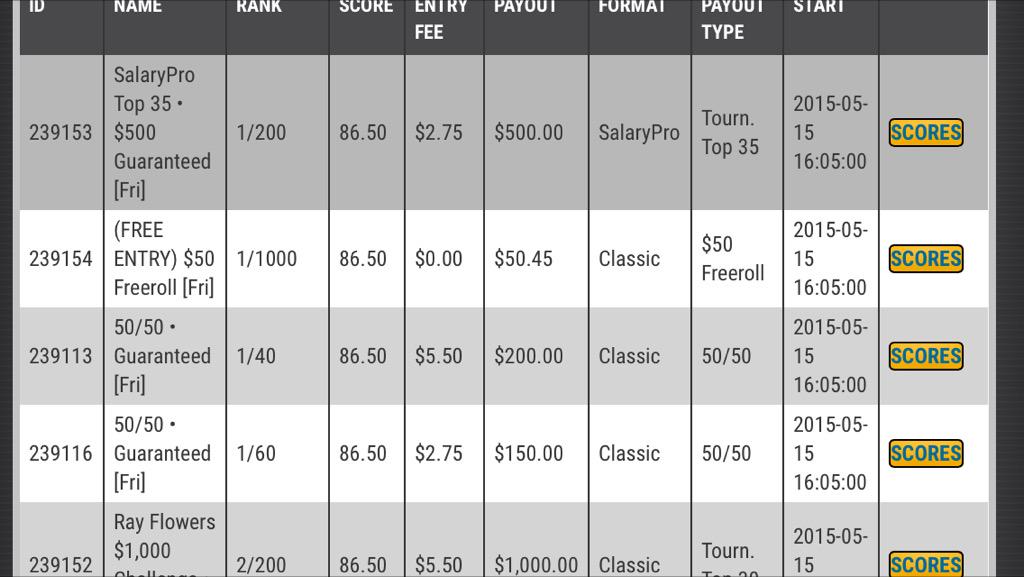 Dexter Fowler – 2 for 6, 1 RBI, 2 R, 1 SB, 2 K.  Another solid game for the serial killer here and I just want to highlight another SB from him.  That makes 9 SB for Fowler on the season.  I said the other day that he should have no problem getting to 20 with Joe Maddon as his manager.
Anthony Rizzo – 3 for 7, 1 HR, 2 RBI, 2 R.  I really wish I owned Rizzo somewhere, but alas, apparently everyone loved Rizzo as much as I did coming into the year, which I kind of find hard to believe but whatever!  A to the Rizzo is now at a line of .341 AVG, 8 HR, 22 RBI, 24 R, and 7 SB with 17 K/20 BB.  I'll see your Goldschmidt and raise you to a Rizzo.  Wait, that's a string raise!  Darn it!
Kris Bryant – 1 for 4, 1 HR, 4 RBI, 2 R, 2 BB, 1 K.  The phenom just won't stop producing.  I said after he hit his first home run to expect a lot more in a bunch, and that is exactly what Bryant is doing.  He has 4 HR in his last 7 games and an amazing 24 RBI in 27 games played.
Hector Rondon – 1 IP, 2 H, 1 ER, 0 BB, 2 K with the BS.  Rondon blew a save for the first time this season versus the Pirates on Friday.  His numbers are not anything to write home about to Mr. and Mrs. Rondon, but for the most part he's been getting the job done.  However, it would be nice to see some more zeroes posted by him.
Gregory Polanco – 0 for 3, 1 R, 1 SB, 4 BB, 1 K.  Polanco did not do much on the roto side of things besides stealing his 11th base of the season.  So he's on pace for more than 40 SB, which is surely more than could have been expected.  But the main reason why I am including him in the daily notes is to highlight, errr, lowlight what he did to lose the game for the Pirates in extra innings.  On a lazy fly ball that was hit to him, he went into klutz mode and tripped over himself to let the ball fall and the winning run to score for the Cubs.  You probably should check it out.
Andrew McCutchen – 2 for 4, 1 HR, 3 RBI, 1 R, 3 BB.  I said he would probably be heating up soon after his HR the other day, so now he is officially heating up NBA JAM style.
Josh Harrison – 4 for 6, 1 HR, 1 RBI, 3 R.  Now this is just Harrison trying to make a mockery out of me after I was in a situation where I needed to drop him earlier this week.  I supposed I didn't need to, but I did.  But joke is on you, Josh because I own you in two other leagues.  In case you haven't realized though, pick him up if he's available.
Francisco Cervelli – 3 for 6, 4 RBI, 1 R, 2 K.  He's certainly not going to light the fantasy world on fire, but this was an excellent game from him.
Ender Inciarte – 3 for 5, 1 K.  He now owns a .326 AVG.  I told you that I would include him here after every good game that he had until he reached at least 50% ownership in Yahoo.  Well, this would qualify as a good game, but still most of the fantasy world isn't recognizing it.  His ownership in Yahoo went from 32% to 35% from the last time that I mentioned him, but he still deserves better.
Addison Reed – Diamondbacks manager Chip Hale announced that Reed would be removed as the closer to be given a chance to sort out his mechanics in lower leverage situations.  Well, this goes against my belief that Reed would be given the next save opportunity, but I was spot on to suggest that his job was in jeopardy.  Brad Ziegler is the most likely guy that the Diamondbacks will turn to in order to protect their next 9th inning lead, but it is totally up in the air and any Diamondbacks reliever not named Reed could get a chance.  This is definitely a situation to monitor.
Maikel Franco – 0 for 4, 1 K.  Phillies top prospect Maikel Franco was recalled from AAA.  I said before that I am unsure that he will provide much of a boost to the Phillies or fantasy teams.  I pegged him for a .260 AVG and 10 HR and with no speed to go along with that and playing for a bad offense, he's not someone that I am going to be too excited about.  I'll leave him for someone else to pick up for the disappointment.
Jered Weaver – 7.1 IP, 3 H, 1 ER, 1 BB, 3 K with the W.  Weaver followed up his CGSO versus the Astros last week with another strong game at Baltimore.  Unfortunately, as I have mentioned before, his velocity is still way down as his "fast"ball is coming in at 83.6 MPH.  So there is a reason why his strikeout rate is no good at 4.26 K/9.  Weaver will have good games like this one because he still has some deception and good command of his pitches, but I would be shocked if he does not finish the season with an ERA above 4.00.  Weaver is certainly not a "buy" candidate.
Kelly Johnson – Johnson landed on the DL with a right oblique strain.  Tough break for Johnson and the Braves as he was a performing nice in his role back with the team that he started with.  Johnson has a .259 AVG, 6 HR, 18 RBI, and 11 R in 28 games.  With Johnson going to the DL, the Braves are shuffling their lineup around to have Nick Markakis and Andrelton Simmons hitting in the middle of the order instead of the top.
Julio Teheran – 5.2 IP, 9 H, 1 ER, 1 BB, 5 K.  A mixed bag here for Teheran as he continued to give up a lot of hits, but he was able to limit the damage.  Teheran now has a 4.33 ERA, 1.60 WHIP, and 39 K/18 BB in 43.2 IP.  More analysis to come on him soon.
Jason Grilli – 1 IP, 0 H, 0 ER, 1 BB, 0 K with the SV.  Grilli notched his 10th save of the season and seems to be fine after sitting out a few days with an injury and having a bad outing in his return earlier this week.
Dee Gordon – 3 for 5, 1 R.  .433 AVG for Dee.  Nothing new to report here, he just keeps on hitting.
Giancarlo Stanton – 2 for 4, 1 HR, 2 RBI, 2 R, 1 BB, 1 K.  Another complete bomb from Giancarlo on Friday.  It went inside the camera well in dead center field.  Afterwards, the man who dropped the "Mike" from his name did a mic drop as he crossed home plate.  He didn't really, I'm just trying to be clever.  I think we have a new term here to celebrate Stanton's home runs.
Bartolo Colon – 5 IP, 7 H, 5 ER, 0 BB, 2 K with the L.  A rough one for Bart but he improved his strikeout to walk ratio to 42 K/1 BB.  He's now on pace for 168 K/1 BB.  Yes, that would be a record.
Gerardo Parra – 3 for 4, 1 HR, 2 RBI, 2 R.  Parra is scorching as over his 18 last games he is hitting .447 with 2 HR, 14 RBI, 11 R, and 1 SB.  He began the season as the 4th outfielder for the Brewers, but he is continuing to steal time away from Khris Davis.  A platoon situation can be developing here and Parra is an under the radar guy to have when he's going well.
Ryan Braun – 2 for 4, 2 HR, 3 RBI, 2 R, 1 K.  A multi-HR game for Braun, but his best PED days are behind him.  He's up to a respectable .256 AVG, 8 HR, 21 RBI, 22 R, and 3 SB on the year.
Buster Posey – 1 for 5, 1 HR, 2 RBI, 1 R.  Buster has now homered in 2 of the last 3 games.  I said the other day that he can get hot with the best of them.  This is him getting hot.
Brandon Belt – 3 for 5, 1 HR, 4 RBI, 3 R.  Belt's first HR of the year!  Good to see him get something going, and perhaps with Posey heating up and the impending return of Hunter Pence, Belt will see an uptick in production.  Now would be the time to pick him up if he's on your waiver wire.
David Phelps – 6 IP, 9 H, 1 ER, 0 BB, 8 K.  The former Yankee long man/spot starter is enjoying a fine start to the 2015 season with the Marlins with a 2.68 ERA, 1.27 WHIP, and a 2-0 record.  I don't expect it to last though unless he begins to strikeout more batters consistently.  The 6.57 K/9 is unimpressive.
Zack Cozart – 1 for 4, 1 HR, 1 RBI, 1 R.  Cozart continues to hit well with his 6th HR of the season.  He's always had some talent so this could be a real breakthrough season for him.
Shin-Soo Choo – 0 for 5, 1 K.  And just like that, his hitting streak is snapped.  It was fun while it lasted.
Prince Fielder – 1 for 4, 1 HR, 2 RBI, 1 R.  I suppose Prince is going to make me keep saying it:  He is quietly having a really good season.  A few more good games and it won't be so quiet anymore.
Adrian Beltre – 2 for 4, 1 HR, 1 RBI, 1 R.  Beltre flashing the power as well as he hit the 400th HR of his career.  He's been getting it going lately, but still is probably going to fall short of the normal numbers we are used to seeing from.
Delino DeShields – 2 for 4.  Delino is here again!  He keeps on hitting and getting on base at a high clip.  He's up to a .311 AVG now, but that is not going to last.  I've been talking him up so much lately but now he actually is outperforming himself.  Still plug and play him though.
Jason Kipnis – 4 for 5, 3 R.  Have I mentioned lately that Kipnis is enjoying being back as the leadoff hitter?
Michael Brantley – 3 for 3, 1 HR, 2 RBI, 2 R, 1 SB, 2 BB.  So beastly.  Michael "Beastly" Brantley.  Yes, that's what I will now call him.
Zach McAllister – 1.2 IP, 1 H, 0 ER, 0 BB, 3 K.  McAllister got the opportunity to begin the year in the rotation, but that didn't go over so well.  He was then moved to the bullpen and has been pretty darn good as he is utilizing a new cutter pitch that he worked on a lot.  I am mentioning him here for a couple reasons.  While he may be behind Bryan Shaw for next in line closing duties for the Indians, I think that McAllister could perform admirably as a closer if Cody Allen continues to struggle.  Secondly, I have a feeling that by this time next year McAllister will be doing what Corey Kluber did for the baseball world in 2014.
Mike Moustakas – 4 for 5, 1 RBI, 3 R.  The Moose is loose.  Now up to a .333 AVG, 4 HR, 12 RBI, 25 R, and 1 SB.  Would like to see more power out of him, but I'm sure Moustakas owners aren't complaining.  He continues to show a great improvement with what was a huge flaw in his game, hitting left-handed pitching.
Lorenzo Cain – 3 for 4, 5 RBI, 2 R, 1 K.  I was saying last week how Cain's RBI total seemed abnormally low for being the #3 hitter for a Royals team that was performing very well on offense.  It was only a matter of time before those RBI started pouring in for Lorenzo.  He's now up to a .326 AVG, 3 HR, 19 RBI, 32 R, and 6 SB and seems like a pretty good bet to finish the season as a .300 hitter with 10 HR and 30 SB while also contributing nicely in RBI and R.  I kind of like him!
Kendrys Morales – 2 for 5, 3 RBI.  Morales has been a huge reason for the Royals run scoring success this season as he has been a stable force in the middle of that lineup.  He is amongst the AL leaders in RBI with 29.
Michael Pineda – 5.1 IP, 10 H, 5 ER, 0 BB, 1 K with the L.  Well, this was a letdown after his 16 K performance last week.  The Royals are the hardest team in baseball to strikeout though, so this comes as no surprise.  He's still a nice pitcher to have and expect better results next time out.
Jake Odorizzi – 6 IP, 8 H, 3 ER, 0 BB, 5 K with the L.  Odorizzi was cruising in this one until the Rays ran him out there for the 7th inning when he was already at 99 pitches.  He ended up being charged with 2 runs in the 7th and subsequently the loss. I still enjoy the future outlook for Odorizzi and you can see why in my post "Shelby Miller and Jake Odorizzi, CUT It Out!"
Brian Dozier – 1 for 3, 1 HR, 2 RBI, 1 R.  Dozier continues to be a good source of power, speed, and runs batting leadoff for the Twins.  His walk up song should be "Take Me to Church" by Hozier.  Get it?  Hozier…Dozier.  I'm pretty sick of that song though.
Michael Saunders – Saunders landed on the DL again with more issues with his surgically repaired knee.  Tough break for Saunders who looked to be in a very favorable situation coming over in a trade with the Mariners that sent J.A. Happy to Seattle.  Saunders can be forgotten about in fantasy for a while.
Chris Colabello – 2 for 4, 1 RBI, 1 R.  Remember last year when Colabello was with the Twins and was amongst the league leaders in RBI by the end of April and the giddy owner in your league who picked up Colabello tried to trade him to you like he was the next coming of Harmon Killebrew?  Well, back then Colabello was just on a hot streak before he flamed out and then got injured.  Right now, Colabello is on another one of those hot streaks where he is hitting .474 with 1 HR and 6 RBI in 10 games since joining the Blue Jays.  He will go back to being nothing soon enough.
R.A. Dickey – 5 IP, 10 H, 7 ER, 0 BB, 3 K with the L.  Dickey has become quite the gas can as he now has a 5.76 ERA.  I guess that knuckleball of his has lost its dance.
Jose Altuve – 2 for 4, 1 HR, 3 RBI, 1 R, 1 K.  Altuve is pretty good at this baseball thing.
Luis Valbuena – 1 for 4, 1 HR, 1 RBI, 1 R, 1 K.  Valbuena versus righties, DFS advice.
Preston Tucker – 2 for 4, 1 R.  This is a guy to keep an eye on.  He was called up by the Astros when George Springer went on the 7-day concussion DL, but he is still with the team even after Spring has returned and he is showing some skills.  Before his call up, he had hit 10 HR with a .320 AVG in 25 games at AAA and he has always shown pretty decent plate discipline.  He has yet to homer, but he has ripped 4 doubles in 6 games.  With Chris Carter, Colby Rasmus, and Evan Gattis struggling to make contact with the ball, Tucker could be given a longer look and become a mainstay in the Astros lineup if he does well.  He has 25 HR potential.
Jake Marisnick – 2 for 4, 1 RBI, 1 R.  Marisnick finally was moved back to the bottom of the order as I predicted, and he responded by having his first good day at the plate in a while.  Albeit, it was with R.A. Dickey as the opposing pitcher.
George Springer – 1 for 4, 1 HR, 1 RBI, 1 R, 1 K.  Still hitting below .200 but 6 HR and 10 SB is pretty good stuff.  His AVG will come up though and could settle in the .240 range.
Jason Heyward – 2 for 3, 1 HR, 2 RBI, 1 R, 1 BB, 1 K.  Apparently, Heyward didn't like me talking crap on him from the previous day.
Carlos Martinez – 5 IP, 7 H, 2 ER, 2 BB, 8 K with the L.  C-Mart continues to show mixed results.  He's got great strikeout potential with that electric fastball, but he has trouble harnessing his control.  I was not a huge fan of him coming into the year because of the probable inconsistencies and the likelihood of him getting shut down early on an innings limit.  I can't imagine that he will go much more than 150 IP this season, which could mean no September baseball in the rotation for him.
Anthony Gose – 3 for 6, 1 RBI, 1 R, 2 K.  My goodness, his BABIP is now at .515.
Miguel Cabrera – 3 for 5, 1 HR, 2 RBI, 2 R, 1 K.  Another dong.
J.D. Martinez – 2 for 5, 1 HR, 1 RBI, 2 R, 1 K.  J.D. had been slumping, but now he's on a 6-game hitting streak.  Power still should be there, but he's not the .300 hitter that he was last year.
Shane Greene – 5 IP, 5 H, 0 ER, 2 BB, 4 K with the W.  Greene had a nice little game going until he was removed with an arm injury.  Uh oh.  I didn't like him all that much, but stay tuned.
Chase Whitley – Whitley will undergo Tommy John surgery.  Naturally, I started him in DFS the day his injury occureed.  Oops!
Carlos Rodon – 4 IP, 5 H, 5 ER, 6 BB, 5 K.  And this is why owning rookie pitchers with a bad history of control is such a headache.  Rodon profiles as a front line starter eventually, but not until he limits the walks, if he ever does.  You'll want him for keeper leagues though.
Josh Reddick – 3 for 4, 3 RBI, 1 R, 1 BB, 1 K.  Still hot!  .339 AVG, 6 HR, 28 RBI, 19 R, and 2 SB in 30 games.  Strikeout rate is down, so he could hit for a good AVG, but not this good.  He still seems like a good hot player to own right now.
J.A. Happ – 7 IP, 5 H, 1 ER, 1 BB, 3 K.  Looks like the Mariners are getting the best of the Happ/Saunders swap since Saunders is back on the DL.  He's not getting the strikeouts like he has in the past with just 6.95 K/9, but I think that will go up a bit soon and settle around his career mark of 7.55 K/9.  If he can keep showing this improved control with his walk rate down to 1.79 BB/9 then he can be a relatively useful pitcher.  He currently is 3-1 with a 2.98 ERA and 1.13 WHIP.
Clay Buchholz – 8 IP, 3 H, 1 ER, 0 BB, 11 K.  Tough break for Buchholz not to come away with the win in this one.  He's pulling a Jekyll and Hyde bit this season and this solid game improved his stats to a 4.93 ERA and 1.38 WHIP.  With an excellent strikeout to walk ratio of 54 K/13 BB in 45.2 IP, a SIERA of 3.00, and some misfortune with a .362 BABIP, Buchholz actually is looking like a buy low guy or waive wire pick up if he's available.  Although, given Buchholz' past history, it's kind of hard to recommend him, but I guess he's worth a shot.
Troy Tulowitzki – 0 for 2, 1 K.  I wrote about the frustration of Tulowitzki from a fantasy standpoint in my post "Tulo Hitting Too Low" and right on cue he leaves the game on Friday with tightness in his left quad after going hitless again.  And so it begins…
Jimmy Rollins – 4 for 5, 1 HR, 2 RBI, 2 R.  Rollins has been pretty disappointing and even this 4 hit performance on Friday only brought his average up to .198.  At this stage of his career, you can't expect much better than a .240 AVG, but he can contribute enough power and speed to be relevant at a shallow shortstop position.
Clayton Kershaw – 6.2 IP, 4 H, 3 ER, 3 BB, 10 K with the W.  Kershaw still isn't looking right and the 4.24 ERA and 1.24 WHIP are obviously very uncharacteristic.  Some bad luck has been involved with a .349 BABIP and 64.9% strand rate, but he is still not making good pitches like we know he can, from what I have seen.  But be patient because he's still the elite.  I don't think anyone is really worried about him anyway.
Kenley Jansen – 1 IP, 0 H, 0 ER, 0 BB, 4 K.  Jansen made his return from the DL and Don Mattingly stayed true to his word and put Jansen in the 8th inning to ease him back in to the closer role.  Jansen ended up whiffing the side with 4 K, after a batter reached on a dropped third strike.  I think he's ready to save some games, Don.
Juan Nicasio – 0.2 IP, 0 H, 0 ER, 0 BB, 2 K with the SV.  Nicasio got the save and has actually been really good for the Dodgers this season after the Rockies non-tendered him.  He has a 1.02 ERA, 1.08 WHIP, and 25 K in 17.2 IP.  Perhaps after Yimi Garcia blew up the previous two games, Nicasio has worked his way to being next in line behind Jansen.
Odrisamer Despaigne – 3 IP, 10 H, 7 ER, 2 BB, 1 K with the L.  Despaigne usually does pretty well at home, but the Nationals had other plans for him.  Plain and simple, Despaigne blows.
Bryce Harper – 3 for 4, 1 HR, 2 RBI, 2 R, 1 BB.  Bryce doing Bryce-like things.
Ian Desmond – 2 for 5, 2 RBI, 1 R, 1 SB. 2 K.  Desmond got his first stolen base of the season on Friday, finally.  Still going to have to see some better things out of him before I would recommend him.
Jordan Zimmermann – 6 IP, 6 H, 0 ER, 1 BB, 6 K.  A nice bounce back game for Zimm.  I suggested him as a guy to trade after his last start due to diminished velocity this season.  His velocity was up a tad in this start, so if that continues to trend more and more upward then the results should improve.  However, I wouldn't necessarily count on it.
Doug Fister – After I bashed him for the Padres bashing him on Friday, Fister lands on the DL with forearm tightness.  I wasn't going to touch him this season anyway, but an injury like this could not have been forecast for him.  The severity is unknown at the time, so we will await the verdict.
A.J. Cole – 3 IP, 1 H, 0 ER, 0 BB, 1 K with the SV.  Cole was called up to take Fister's spot in the rotation, but he got some work in on Friday and Matt Williams let him finish the game for the always exciting 3 inning save.  He has some long term potential and with the good control that he has he could have some success.  He got bombed in his Major League debut a few weeks ago, but I'll chalk that one up to the jitters and start him with a clean slate.